Ottawa: CHAN Demands Kingsley's Resignation
About two dozen protesters met at lunch hour today outside Elections Canada. The Canadian Haitian Action Network(CHAN) decided to call for the resignation of Jean-Pierre Kingsley the chief electoral officer who tried to legitimate the Haitian elections. The government of Haiti was overthrown in 2004 by Canada, France and, the United States, even though it was democratic. The media has largely stayed away from this despite the fact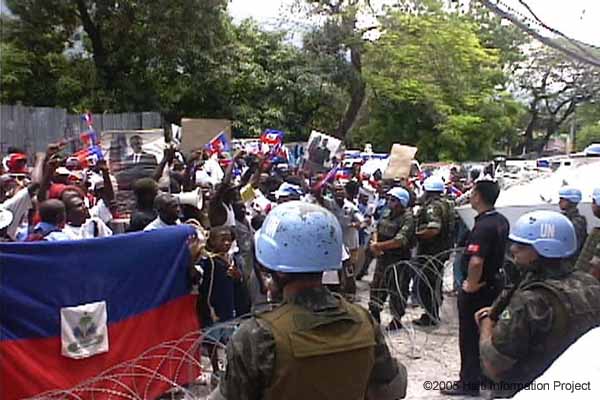 that the
Carribean Community, the African Union and, some South American states have condemed it as a coup d'etat.
In order to cover up this fact Kingsley was put in place to oversee elections in the country. The elections were marred with error including forged ballots, dumped ballots in garbage, thousands of political prisioners, intimidation and murder of Fanami-Lavalas supporters
, as well as the reduction of polling stations. In the Haitian run elections of 2000 there were 12,000 polling stations around the country. In the Elections Canada run Haitian elections of 2006 there were only 900 which were concentrated in the rich neighbourhoods. Despite all this Rene Preval a friend of the deposed President Aristide and President from 1995 - 2000, won the elections. The demonstrators from the Ottawa-Haiti Solidarity Committee a part of CHAN delivered their demands inside in person in order to make their point heard as they were watched by about a dozen uniformed police, two plain clothes (one of which was taking photos of everyone's faces) and, the Elections Canada security. To see their full demands and reasoning go here.


Image from Haiti Information Project. Haitians Protest UN abuses.



Tags:
Protests
,
Ottawa
,
Haiti
,
Jean-Pierre Kingsley