Site: Best Feminist Political Blog
This which has been on hiatus due to University mostly, has been nominated in the 2009 Canadian F-Word Blog Awards for the Best Feminist Political Blog. Maybe this will kick my butt to start blogging again.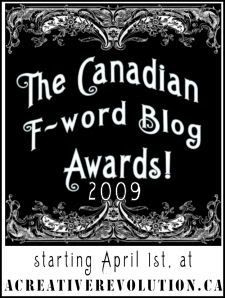 This was from the administrator of the awards:
"What does being nominated for an F-word Award mean, besides glamour, prestige, and a pretty badge to display on your blog? In the big scheme of things, ABSOLUTELY NOTHING! More acutely though, it means that someone who is aware of the awards likes your blog enough to nominate it in our anti-sexist snark festival. It means someone thinks you kick ass! AND YOU DO! W00t!"